If you are blogging or planning to start a Blog on WordPress. If you are searching for such free themes, I have 4 options in which you can use a free theme. I have tested a few themes and out of it I have selected the best 4 themes We will discuss those themes.
The Best Theme we have on Number 4 is 'Shopisle'
"Shopisle" is WordPress Free Theme This theme comes from Theme Isle and is a good theme for E-Commerce It has a good design, it looks premium and it looks good It has a good loading speed for an E-Commerce Theme I put this theme on my server There are many customized options available
Shopisle Cons
Now, coming onto its Cons The first Con is in their Support
This is a free theme but you won't get good support
You cannot see infinite scrolling
You cannot see templates
So you will have to make your own template by reading the documentation
So this theme is ideal for E-Commerce Store on WordPress, you can use this theme
It has good ratings
It has 40k+ active installations
The next best theme we have 'Neve'
'Neve' comes from Theme Isle. This theme is been launched for a year, it is a good them and it is one of those themes that provide value to free themes.
Now coming onto Pros
The First Pro is in their Customisation
I have never seen such a major amount of customization available in a free theme
I can customize my header, logo, and menu, If I have to add Search Bar, I can easily add it all
So by this, I can make customizations, So likewise you will be able to see Customisations
Next Pro is their Pre-Built Templates
So I will have to import template and everything will be loaded into my website and I can edit it further
So this is a doctor's template, so I just have to import this template. I just have to change data and my hospital website would be ready. So there are very good templates, there are Video Blog, Photography templates, Vintage, Lawyers, Freelancers, Shop
It is compatible with PageBuilder, Elementor, Beaver Builder. You get an AMP Built Support
It is easy to use for beginners, A minimalistic approach has been used. So it is a good theme
There are Cons as well
The first Con is their support. Since it comes from theme isle, they provide support
So this theme is ideal for small businesses. If you are using Page Builder or Elementor you can use it.
If you want to do blogging you can use this theme. If you want a stylish and fast website, you can use this theme.
Now talking about fast, the speed of your website is not depended upon a theme but also on a good hosting It provides WordPress Optimized. If you use WordPress, you will be able to see a good speed through any normal hosting. You can take Shared Hosting and Cloud Hosting its suits both.

So this was our second theme 'Neve' whose active installations were 50k+ It is having a good rating and at present, it is one of the most popular WordPress Themes
The second best theme we have is of 'Colormag'
If you are searching for a theme that will be for blogging purposes. I will recommend Colormag for it. Colormag is a simple easy to use theme. You won't see bloatware.
It is having a basic functionality theme necessary for blogging purposes. If I talk about Pros
It is good for blogging and it has easy to use interface, It has basic features and it is fast and it is loved by everyone. It has 1 lakh+ Installations.
This is a ColorMag theme I just have to import a template. My website is ready and I can use this for fashion. If I am preparing a blog on Nature, Planting or Gardening I can make use of this theme.
Now coming onto Cons
They provided Limited Functions in a free theme. The limit functions for their Pro Version
If you are on a free version you will get Support through Forums. You can expect your query to get answered by 4 to 5 days.
If you are planning to open blogs for the magazine, you can use these free themes. So if you are planning to get a paid version, you can definitely buy this theme. You will be able to see many features, and all its cons will be removed in its paid version. Its paid version is for approx $69
So the best theme on First no. is OceanWP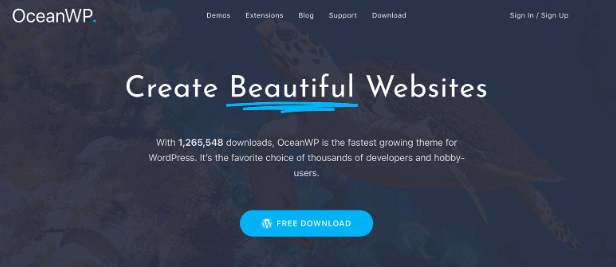 OceanWP has 4lakh+ active installations, It was last updated on 4 August. So if I talk about OceanWP advantages
The first advantage is, it is very lightweight. You can easily integrate it with WooCommerce and PageBuilders. You can get great Customisation Options. It has easy to use interface. There are many templates available for business and blogs.
Its major advantage is its community, Many people use OceanWP and there are many tutorials and videos on YouTube and blogs. So if you face any problem you will get good support.
Now coming onto its Cons
They are pushing towards a paid theme. They are asking to opt-in to share your email. They are upselling themes recently.
The second major Con I found out is they increased their Add on Price
They were selling Ocean Sticky Header at $10 but now its price has increased to $29.99 So it is an all in one theme for Blogging and E-Commerce
If you have waited till here, I will provide 2 more options
The first option is of Hiesta
It is a stylish all in one-page template theme, It is a very trusted theme.
If I talk about its Cons, there are limited templates

Next option is of GeneratePress
So this is a theme I personally use it on my websites. You can get a free version but you will get more benefits on the pro version. So if you are searching a theme that you will convert it from free theme to pro version.
If you have a low budget and you want the best theme. So I will recommend GeneratePress, this is very good. You will get a subscription of $50 per year and you can make unlimited websites.
So this theme is lightweight and you will get a phenomenal speed. You will get good support. You can link this through PageBuilder and its pricing is affordable
If you are searching for something between free themes and paid themes, so this is the theme that you should go for. every time I recommend go with paid themes. in paid themes you will get new updates and their customer support. its good to your professional website. ill explain this in future articles.
So do let me know which theme you liked the most
Tell me which theme you are using and how is your experience with that theme. I would love to hear about your experiences.