As online transactions continue to dominate the world, the use of virtual cards has become increasingly popular as a way to make online payments. Virtual cards offer the convenience of traditional credit cards, but with added security features that protect cardholders from fraud and unauthorized use, at the same time providing enriched functions for anyone involved in digital advertising, media buying, and affiliate marketing. Plus, virtual cards can be created and managed entirely online.
Now let's take a closer look at the PSTNET which is by far the best virtual card provider on the market in 2023. That service offers virtual payment cards of premium quality with its Platinum Credit cards and 3-D Secure support, starting at just $1. Virtual payment cards from PSTNET can be instantly loaded with cryptocurrency (BTC, USDT, etc.) and other methods like bank transfers to pay for advertising, goods, and services around the world in $ and €.
VCCs from PSTNET don't have any limits on the number of cards, spends, and deposits, as well as there, are no hidden fees so virtual card from this service is a great choice for businesses and individuals that need to pay for services such as Google Ads, Facebook Ads, TikTok Ads, Twitter Ads, Bing Ads, Canva, Amazon, eBay, Digital Ocean, Jira, and almost any other service available, and they will be able to pay for such services even with crypto. Additionally, some of PSTNET's virtual cards can be added to e-wallets such as Google Pay and Apple Pay, further increasing their convenience.
Usually setting up a new account at a virtual credit card service takes a lot of time and effort (difficult sign-up process, KYC interview, etc), but PST doesn't have such problems. The registration process is easily completed in just a few clicks by simply signing up with a Google or Telegram account or creating a new login and password. There is no need to provide any documents to get started, even if the account is used for work. The first virtual crypto card (VCC) doesn't require any verification, although in that case card deposit is limited to $500. For users who need more, several steps depending on the desired limits and functions are available. Every step includes no more than either entering a couple of info pieces on the website or uploading a document photo though, so neither of the verification steps should take long.
PSTNET also offers special conditions for teams and users with high monthly spends ($30k+ per month), such as up to 100 free cards for a test, $1 for a card, and a 2% top-up fee. These terms available through the PST Private program seem to be the best payment option on the virtual crypto card market in 2023.
Top-up methods include USDT TRC-20 (Tether) and Bitcoin, wire transfers (SWIFT, SEPA), and plastic cards from Visa & Mastercard. Withdrawals in crypto are available too, but they must exceed $300 (it was $500 till recently when guys decided to lower withdrawal limits after multiple user requests).
PSTNET offers a variety of virtual crypto cards that are designed specifically for media buying and affiliate marketing. Trusted BINs protect advertising accounts from risk-payment bans allowing them to run ads with no extra hassle.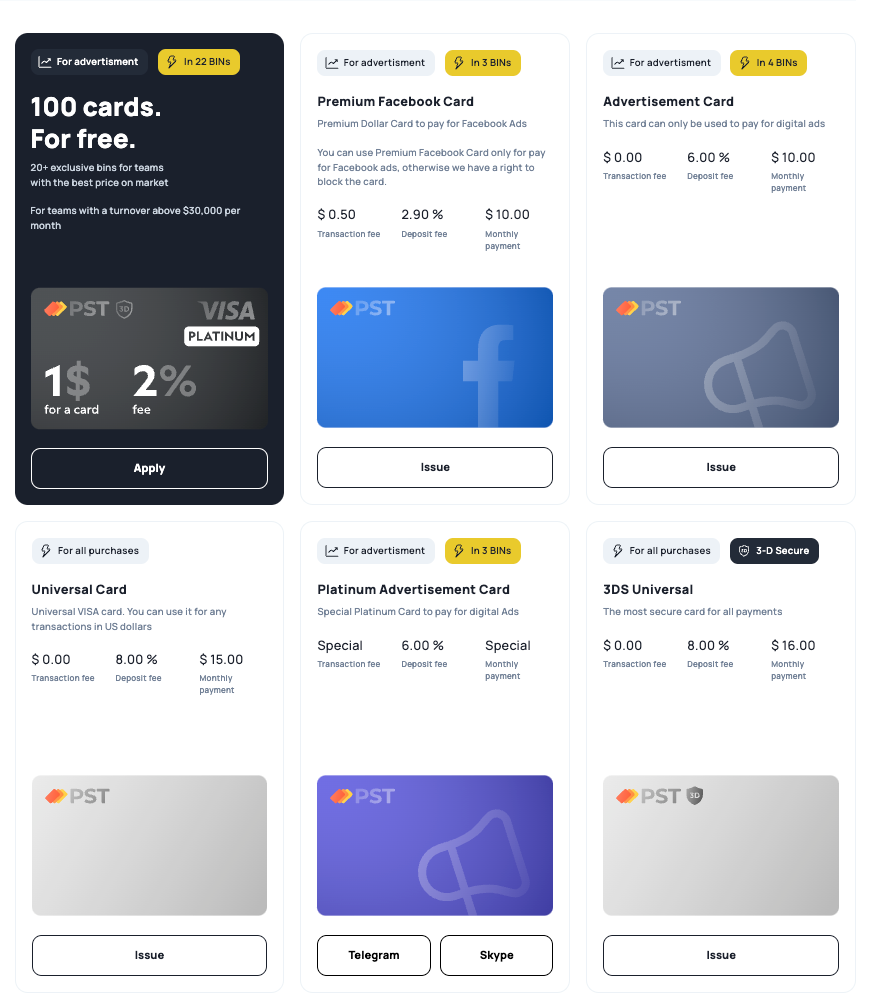 Moreover, there is a special tool from PSTNET called BIN Checker that not only allows one to check the information on all bank cards but also shows real-time statistics on internal BINs. Service discloses information about the percentage of approved/declined transactions, average spend per card, and billing thresholds.
PST offers special functions for teamwork. To get those functions users have to contact customer support service to get the Master-account status. The master account offers a number of benefits, including the ability to manage employees (e.g., inviting, suspending, and changing roles), set spend limits, instantly transfer cards and funds between team accounts, and access a top-up request system. Additionally, Master-accounts can access the transaction history of all team members and also generate and download operational reports in CSV format. With the upcoming launch of a spend forecast system and the ability to set allowed merchant (MCC) codes, Master accounts will provide even more tools to streamline your business expenses.
There is even a browser extension for Chrome called Cardholder from PSTNET that let users receive 3DS confirmation codes right into the browser, check the current balance and details of their virtual payment cards from PSTNET, and insert card details in payment detail fields in just one click.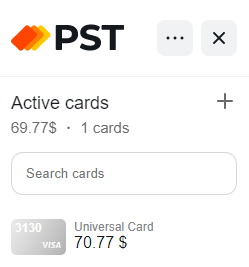 In general, virtual crypto cards from PSTNET are a reliable tool for paying advertising costs with the best terms on the market. Platinum Credit cards, 3D-Secure, and BIN quality monitoring systems from PSTNET will provide an unsurpassed level of protection against problems with financial verification on all advertising platforms. Special conditions and ease of use make these cards the best choice for media buying and affiliate marketing in 2023.